¶ 1 Kommentar schreiben zu Absatz 1 0 The Amazing SoF Participants in Azraq in profile:
¶ 2 Kommentar schreiben zu Absatz 2 0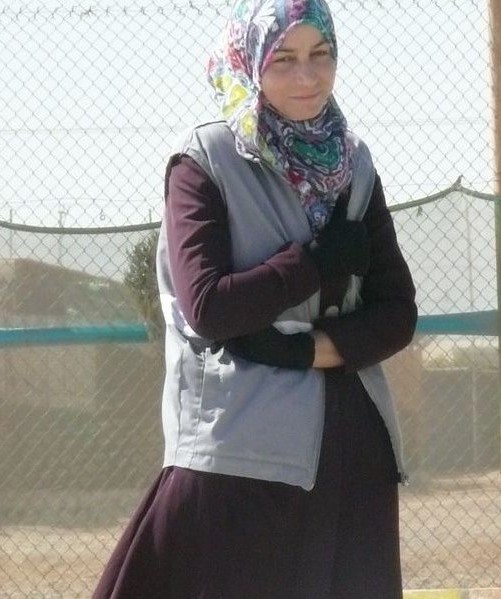 Maroua
¶ 3 Kommentar schreiben zu Absatz 3 0 Maroua became a widow at 20 and is now 27, she has three children and is extremely shy. Her aim is to become more active and loud. At her work they have been surprised that she has begun to take on initiative doing interviews for camp data collection. She had previously only written the information down. She had never thought it possible to be so free. She has seen something to strive for. Previously she would not have questioned her role of being a stay at home widow. SoF has given her the inspiration to be braver and look beyond this.
¶ 4 Kommentar schreiben zu Absatz 4 0 Nawaf: Is a very conservative man who studies Islamic religion. In Azraq he works as a teacher.  He sees that Islam is not at all contradictory to our ideas because in both cases, it is humanitarian in nature and we have a lot in common. He has been teaching teenagers of different backgrounds, with lots of psychological issues.
¶ 5 Kommentar schreiben zu Absatz 5 0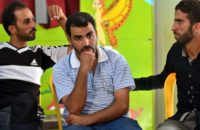 Nawaf
¶ 6 Kommentar schreiben zu Absatz 6 0 The difficulty for him, like for many teachers all over the world, is that he needs to stick to a curriculum and schedule. He suggests that they all need specialists to work with them. When he does projects with children he can apply the SoF methods. He reaches about 60 to 70 % of the children with SoF methods. On a personal level his aim is to be as honest as possible in the way he conducts his life. He said that he used to be very conservative and focused on his studies. When SoF came to Azraq he had many stereotypes about western culture but now he sees that we have more in common than not. From the first day he was surprised how easy and flexible we were. When we left he like everyone else felt totally empty and were only longing for us to come back. Through us they can learn more about their own personality.  Even though he is part of a collectivist culture he wants us to know that the Arabs are more open-minded and flexible than we think. They also have creative women, men to be proud of and children with a great future.
¶ 7 Kommentar schreiben zu Absatz 7 0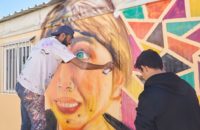 Mohammed
¶ 8 Kommentar schreiben zu Absatz 8 0 Mohammed is one of the most revered artists in the Azraq camp. It was he whom Andrew met in the very first SoF visit to Azraq in May 2017. On this visit Mohammed met the Jürgen Klopp Fair Play Ball and presented SoF with a painting of The Ball in Azraq which hangs in Andrew's office in Erfurt. SoF he says, helped him to reorganize his ideas to help him write his own poem. He works with SoF's ideas and thoughts and has learned to become a team player. He is now working with children, teaching them to do art in a more communal way – sharing ideas and colours and being more respectful. One example he mentioned was a child in a wheelchair who he included into activities. Another example was encouraging boys and girls to work together – something that is not often done in this conservative place. He tells children that the only difference between boys and girls in their God-given private parts. His focus is now on things that connect the children rather than on what divides them. He has also noted changes in his behavior at home. He helps his wife more and engages his kids so that everyone has their own tasks to complete. He feels responsible for making life better for himself and his family. This leads to him being happier, he admitted to previously being a source of anger, upset, he felt useless and without a future. His motto now is "Do the things that you did not expect to ever do. You can be someone who gives hope to others." He sees himself as a book that adds a chapter every day from which other people can learn.
¶ 9 Kommentar schreiben zu Absatz 9 0 Nihal, 33 years old with three children, teaches sports and arts to the very young (3 to 6 years old). She has tweaked SoF's methods so that they can apply to this young age group too.  Everything about SoF has been positive and has given them (the refugee participants) new ideas. Especially concerning men and women working together. SoF has made her remember her former self – the one she was before the war came which broke her heart and crushed her soul. In those days, she was strong, independent
¶ 10 Kommentar schreiben zu Absatz 10 0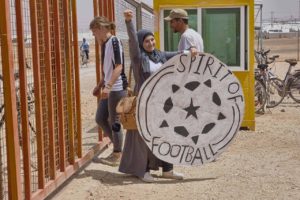 Nihal
¶ 11 Kommentar schreiben zu Absatz 11 0 and had her own opinion. She and her husband were best friends and had lived a full life. Everything in her family's life has changed due to the cramped space and the conservative society in the camp. They cannot live like a married couple anymore in front of their kids. She doesn't want her children to go outside and be "infected" by the bad manners of the other children but she cannot make them stay inside. Three years of camp life seem like 100 years for her. She has had to learn to live and work with people from all walks of life. This is a valuable and humbling lesson. She wants to be a role model for others.
¶ 12 Kommentar schreiben zu Absatz 12 0 Sawsan used to work in a women's sports club but is currently unemployed. Her husband lives in Saudi Arabia, where he has work. Her three year old son has never seen his father. She is alone with the children. She has a great love of sports, especially football. She teaches our methods to her children and also to the neighbors' children. She does warm-up activities with her own two children, often inventing new games and activities based on SoF methods and sometimes including the neighbours' children too. She says that SoF has given her more courage. Because of stereotyping, she felt that she was not allowed to play football before. These days she plays even in the face of criticism. She proudly showed off photos of her three year old – a budding footballer as ever there was one.
¶ 13 Kommentar schreiben zu Absatz 13 0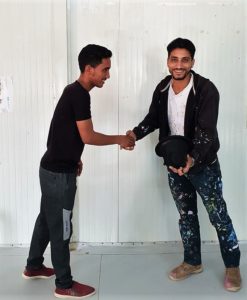 Samir (rechts) mit Mohammed
¶ 14 Kommentar schreiben zu Absatz 14 0 Samir is a husband and a father of two small children and an incredibly gifted artist. Since the first day that SoF came into his life at the end of February 2018 he felt a sense of belonging. He sees the SoF team members as friends now with great positive mentalities and this brings him back to our trainings every time. He was always extremely shy but now he is involved with groups of men and women and he loves to work with kids – often employing the methods we have taught him. Some of these methods (clap rhythms, energizers, and teambuilding for example) bring about very surprised reactions – breaking the ice and making people smile. Through art and the SoF methods he can combine everything that is important to him, convey his message and at the same time work with others, overcoming his own insecurities, and giving a deeper meaning to his life.
¶ 15 Kommentar schreiben zu Absatz 15 0
¶ 16 Kommentar schreiben zu Absatz 16 0